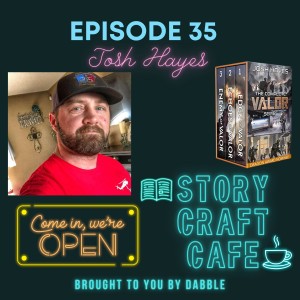 Friday Jul 29, 2022
Finding Your Niche In Publishing with Josh Hayes | Story Craft Café Episode 35
On today's episode of the Story Craft Café, we talk with Josh Hayes about how he found his niche where he could be successful in publishing.
A retired police officer, Josh Hayes is the author of the upcoming Weaponized series, the Valor Trilogy, Stryker's War (Galaxy's Edge), the Terra Nova Chronicles w/ Richard Fox, the Tranquility series, and numerous short stories.

His debut solo novel, Edge of Valor, was a finalist for the 2020 Dragon Award for Best Military Science Fiction or Fantasy Novel.

He grew up a military brat, affording him the opportunity to meet several different types of people, in multiple states and foreign countries. After graduating high school, he joined the United States Air Force and served for six years, before leaving military life to work in law enforcement. During his time with the Wichita Police Department, Josh served as a patrol officer, bicycle officer, community policing officer, and was an assistant bomb technician on the Bomb Squad.

His experiences in both his military life and police life have given him unique glimpses into the lives of people around him and it shows through in the characters he creates. 

Josh is also the creator and president of Keystroke Medium, a popular YouTube show and podcast focused on the craft of writing.
Website: www.keystrokemedium.com YouTube: www.youtube.com/keystrokemedium
Josh is a co-host of the Baen Free Radio Podcast, the official podcast of Baen Books.
Website: https://www.baen.com/
Novels:
Weaponized (Aethon Books)
Weaponized Fury, coming 2022
Weaponized Rage, coming 2022
Weaponized Wrath, coming 2022
Tranquility (Aethon Books)
Blood and Steel, 2021
Battle Lines, 2021
War Fighter, coming 2022
The Valor Trilogy (Aethon Books)
Edge of Valor, 2019 – 2020 Dragon Award Finalist – Best Military Science Fiction Novel
Echoes of Valor, 2020
Edge of Valor, 2020
Order of the Centurion, Galaxy's Edge w/ Jason Anspach and Nick Cole (Galaxy's Edge Press)
Stryker's War, 2019
The Terra Nova Chronicles w/ Richard Fox (Triplane Press)
Terra Nova, 2017
Blood Lines, 2018
Wings of Redemption, 2019
Hale's War, 2019
Published Short Stories:
Blooded – A Grimm's War Story, 2022 – One Decisive Victory (Aethon Books)
Open Ended Contract, 2022 – We Dare 4: Wanted, Dead or Alive (Theogeny Books)
A Song of Mercy, 2022 – Talons and Talimans (New Mythology Press)
Lunar Fury, 2020 – Battle Luna Anthology (Baen Books)
Now You Don't, 2019 – We Dare Anthology (Theogeny Books)
The Wagner Method, 2019 — Hope is Not a Strategy Anthology (Seventh Seal Press)
A Prelude to Valor, 2018 — Backblast Area Clear Anthology (JR Handley)
Leverage, 2017 — For a Few Credits More Anthology (Seventh Seal Press)
Salvation, 2017 — Question of the Day Anthology (Clayborn Press)
Harbinger, 2017 — Explorations: First Contact (Woodbridge Press)
The Path to War, 2017 — Explorations: War (Woodbridge Press)
Hero Worship, 2017 — It's a Bird! It's a Plane! Anthology (Steve Beaulieu)
The Long Haul, 2016 — Mostly Murder: Till Death Anthology (Elemental Press)
The Lost Colony, 2016 — Explorations: Through the Wormhole Anthology (Woodbridge Press)