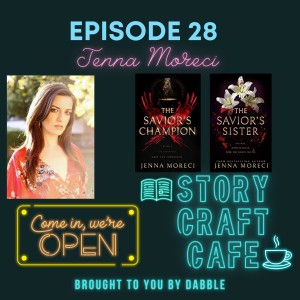 Tuesday Jul 05, 2022
Developing Fantasy Characters With Jenna Moreci | Story Craft Café Episode 28
Jenna Moreci is a International #1 Amazon Bestseller and wildly popular YouTuber who joins us today to talk all about writing fantasy characters and how she manages a successful indie author career. 
​Jenna Moreci is a #1 bestselling author of dark fantasy, as well as a YouTube sensation with hundreds of thousands of subscribers. The Savior's Champion, her first novel in The Savior's Series, was voted one of the Best Books of All Time by Book Depository.
 Born and raised in Silicon Valley, Jenna spends her free time laughing until her face hurts with her goofball fiancé and snuggling with her tiny dog.