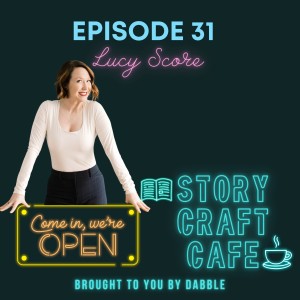 Friday Jul 15, 2022
Lucy Score Goes From Indie Author To Publishing Maven | Story Craft Cafe Episode 31
Lucy Score is a USA Today, Wall Street Journal, and #1 Amazon bestselling author. Small town contemporary rom-coms are her lady jam and she enjoys delivering the feels with a huge side of happily ever after.
Her books have been translated into several languages, making readers around the world snort laugh, swoon, and sob. Lucy lives in Pennsylvania with the devastatingly handsome Mr. Lucy and their horrible cat.
In her spare time she enjoys sleeping, eating, and reading romance novels other people wrote.
Lucy Score grew up in rural Pennsylvania with a lot of time on her hands and a big imagination. She was the oldest of three in a literary household. Dinners were often spent in silence while family members had their noses buried in books. A passion for writing took hold at five when she taught her brother to write his name on the bathroom door.
She started writing (on paper) in the second grade, first about pilgrims on the Mayflower and over the years graduated to essays, articles, blogs, and finally books.
Before becoming a full-time writer, Lucy pretended to be a normal adult by holding down jobs that included event planner, bartender, newspaper lackey, and yoga instructor.
Lucy and Mr. Lucy, enjoy spending time with their ten nieces and nephews and are determined to learn to sail so they can live on a sailboat in the Caribbean someday.