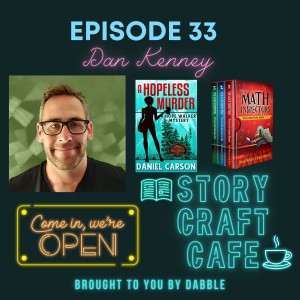 Friday Jul 22, 2022
The Power Of Your Back List With Dan Kenney | Story Craft Cafe Episode 33
Dan Kenney is one of the most prolific authors I know. He publishes middle grade books under the name Daniel Kenney, and he also writes cozy mysteries for adults under the name Daniel Carson.
Daniel lives in Nebraska with his wife and their perfect adoring children who have never ever misbehaved. Not once. His days are a mixture of . . . teaching, cooking, driving, more cooking, lots more driving, cleaning and more driving. So much driving. When the children finally go to bed, Daniel writes stories.
Five Star Praise For The Hope Walker Mysteries
"
-"I really think this series and each book has the perfect mix of humor, mystery, real life, and suspense."
-
"I love this series. Carson has me guessing the whole time!"
-
"This book is every bit as good as the first! I can't get enough of Hope and the rest of the gang. An engaging plot, and laugh out loud humor make it difficult to put this book down."
-
"I absolutely enjoyed reading this cozy mystery. It had everything I look forward to in a mystery and once started I couldn't put it down."
The Hope Walker Mysteries
SEASON ONE
- Book One: A Hopeless Murder
- Book Two: A Hopeless Heist
- Book Three: A Hopeless Discovery
- Book Four: A Hopeless Game
- Book Five: A Hopeless Christmas
SEASON TWO
- Book Six: A Hopeless Journey
- Book Seven: A Hopeless Valentine
- Book Eight: A Hopeless Queen
- Book Nine: A Hopeless Sheriff
- Book Ten: A Hopeless Storm
SEASON THREE
- Book Eleven: A Hopeless Spring